A River Runs Through It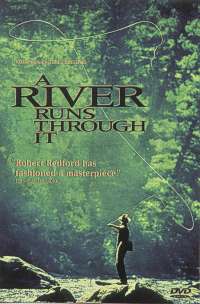 Great quote from
A River Runs Through It
:
"The world is full of bastards, the number increasing rapidly the further one gets from Missoula, Montana."
What I love about this quote, what I love about this movie, is that it paints a stunning portrait of the human experience. We see these people who choose to live in Missoula, MT because they think it's the closest you can get to paradise in the lower 48, and yet we discover that their lives are dysfunctional hells nonetheless.
So their predicament is our predicament too - we are all surrounded by the gifts of God, the beauty of his creation, the blessings of his grace, and yet we constantly find our lives unraveling. We struggle to maintain our grip, we long for meaning and fulfillment. You can put man back into the garden, but you can't get the garden back into man. Only Christ can.
If you haven't seen this movie, go rent it. If you have seen it, go rent it again and start praying for the church in Missoula...